AMERICAN EXPRESS TRAVEL
---
"COMMITTED TO EXCELLENCE"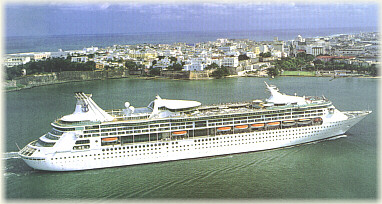 We are a family owned FULL SERVICE AGENCY in business since 1972. We provide personal service with the resources and influence of one of the largest travel management companies in the world. We are members of various travel organizations such as ASTA, CLIA, and IATAN.
Hello, and thank you for visiting our website. My name is Dennis Abrams and I am the Manager of this agency and more importantly, I am the CRUISE SPECIALIST. I have been on 27 cruises over the past 20 years and I have personally inspected another 25 cruise ships. I have extensive EXPERIENCE and EXPERTISE in the cruise business.
If you are seeking ACCURATE INFORMATION, EXPERT GUIDANCE, and PROFESSIONAL CARE then you have found the correct site. I am not a home based agent operating independently with questionable credentials. I am a PROFESSIONAL well traveled and experienced agent who can explain the differences between the various cruise lines and their ships. I can match you to the CRUISE LINE, SHIP, and ITINERARY that's best for you. This is extremely important to insure that your cruise vacation is a great experience. Being on the wrong ship can ruin a vacation.
I will provide you with COMPLETE PRE-CRUISE SERVICE including recommendations for shore excursions, packing suggestions and clothing advice, and a variety of specific info about your particular ship to further enhance your cruise experience.
I will work towards finding the BEST AVAILABLE PRICING for you. I constantly monitor the SPECIALS offered by the cruise lines. As you may know, the cruise prices on any given date and ship are essentially the same for everyone. Any difference is due to agents cutting commisions. I do not cut commisions on individual bookings. I provide a high level of expertise and service which is worth far more than the few dollars you might save from commision cutting.
If you are interested in a CRUISE VACATION and want to deal with an expert, please FILL OUT THE FORM BELOW. I will contact you upon receipt of your information. If you would rather speak with me personally, please feel free to call me on our toll free line (800) 298-1914. I will provide you with the accurate information you need to make your vacation the best it can be.
DENNIS ABRAMS
Email: CWTFTC@AOL.COM
Telephone: (800) 298-1914 or (970) 226-1914
Fax: (970) 226-0629
ADVENTURES AWAITING TRAVEL
2801 REMINGTON
FT COLLINS, CO 80525
---
NOTE: All information provided to ADVENTURES AWAITING TRAVEL will be treated strictly confidential and will not be made available to third parties.
---
This page developed by Jody Heyroth & Angela Rodda